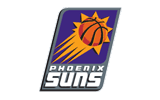 The Suns demolished the Kings Monday night in an easy victory, 129-81. This was the largest margin of victory at the Suns arena. PHX was up by 50 pts at the end of the 3rd quarter, so the starters did not need to play the 4th and the bench maintained the lead until the end.
PHX was led by Jason Richardson (24), Stoudemire (25) and Hill (14) points, respectively. We dominated on the boards for once, 59-35 - not even close. No Suns player had more than 9 rebounds, so it was a total team effort.
The team had reportedly participated in several closed-door meetings over the weekend after a demoralizing home loss to the (weak) Chicago Bulls. Not sure what was said, but the effort displayed tonight showed that the players mean business (i guess).
Let's just hope this is the start of a turnaround and not just a one-game fluke.